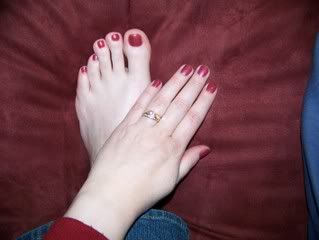 So I thoroughly enjoyed my day at the spa, and I have to say it was much needed. The highlight of my day wasn't necessarily the spa. I think that just made it even better!
I think I enjoyed church today more than I have in a very long time. First the worship was incredible! The songs just really hit hard and even though I was sitting at the piano I found myself really paying as much attention to the words as my chords. Pastor Bob had a great message this morning, too. I am usually a person that thrives on digging into the Word and trying to understand more about God by understanding the history, original language, accuracy of the translation, doctrine...you get the point. I'm not a "feel good" person by any means. I like application, but so often I feel our society is looking for a "pick me up". Today it really hit me when Pastor made us think about the following...
Even despite all the hardships I am or will be going through, even if I were to lose everything, could I honestly be able to tell God it's okay! Whatever You allow in my life I will receive because You don't owe me a thing!
How often do we see sadness in the world and we immediately ask, "Why God?" They didn't deserve to go through this. We are the last ones that should ever use the word deserve. What about what Christ deserved?
I love quotes. If you have any good ones, pass them on. I fill those blank white pages in the back of my Bible with quotes, hymns, and other things I feel important. This morning I was reading over one I wrote years ago. I don't remember where it was from, but it says,
"Lord, I am willing to receive what you send, to lack what you withhold, to relinquish what you take, to suffer what you inflict, to do what you command, and to be what you require." Do I really mean this? I can't say I'm positive. Right now it's easy because life hasn't been too difficult as of late, at least nothing I wasn't able to find a way through.
Someone at church gave me a book called Face to Face. It's a book that daily leads you through praying Scriptures for worship. I just started it. In today's renewal section the first verse is Deut. 10:12..."O Lord my God, may I fear You, walk in all Your ways, love You, and serve You with all my heart and with all my soul." May this be true of me today and every day!