Back at my dad's and able to use my own computer again! YAY! Not as hot today, but still tons of gnats outside!
I really enjoyed my class reunion this weekend! I'm putting a few pics for you to see. I can't believe how some people haven't changed in 16 years!
I'm starting to get a little homesick as I miss my own home, my husband, and my routine. It's hard living out of suitcases in one bedroom for a month and a half, but I'm glad I was able to come. Last night I went through some old pictures with my grandmother. It was cool looking at pics of her as a child and of her mom and grandmother, too. I don't have a very large family so I enjoy learning about my family history. I want to scan the pics into my computer, but was having trouble with my scanner last night. Hopefully I'll get it going soon.
The girls keep everyone entertained as usual. GEM seems to finally be getting settled in to the new locations and is happy to make herself at home. She really enjoys being with my grandmother.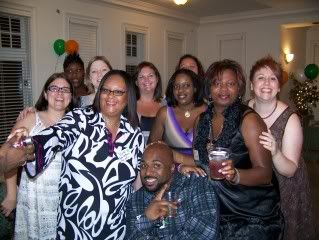 Looking forward to my next reunion in 2013! I guess I'm getting old. Looking forward to getting the girls pictures taken Thursday morning. Thanks again to those who've checked in on me!